Canyon Creek's Collections
Framed cabinetry for any room in the home: kitchen, vanity, media center, great room, home office, laundry room, master suite, craft room, and so much more. The Cornerstone line features framed, inset and beaded inset cabinetry made in the tradition of fine furniture. And, for even more space flexibility, Canyon Creek has recently added wall beds and wardrobe storage cabinets to the line!
Quality frameless cabinetry at a value price for any room in the home. Among its offerings is a Thermo Structured Surface (TSS), a unique alternative to wood, featuring a textured wood grain face that has been thermally fused and heat stamped to a particleboard core. Like all Canyon Creek Cabinets, Katana features a durable, low-VOC finish that will stand up to just about any household food product or chemical without damage, and the line is backed with a one year warranty.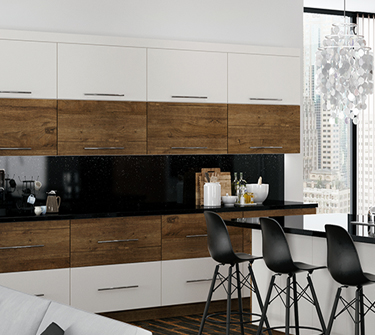 Line of full-access frameless doors in maple, cherry, alder, beech, hickory, red oak, rift-sawn white oak, bamboo, VG fir, plus rustics, exotics, foils, glass, metals and laminates in styles for every room in the home or office.
Closets Plus
Canyon Creek's custom storage solutions for closets of every shape and size – with all of the accessories you need to get your home organized.
We can guide you through your Canyon Creek choices.